Once you've setup your job records (templates), you might like to attach job related documents to the record. Employees can be asked during their onboarding journey to sign-off on these documents.
To get your employees to sign off on their job related documents within a process, such as an onboarding journey, please review this article.
Follow Me.
1. Go to Settings > Setup > Jobs
2. Select the Job you would like to add a document to.
3. In the 'Documents required for this job' section, select which folder you would like the Job Description to appear, once the employee has signed it (e.g. 'Completed Documents') (1)
Note: What you're doing here is saying 'When the employee has completed the Sign Job Documents step in onboarding, put a copy of any documents they've reviewed in this folder'.
4. Click 'Add from Library' (2)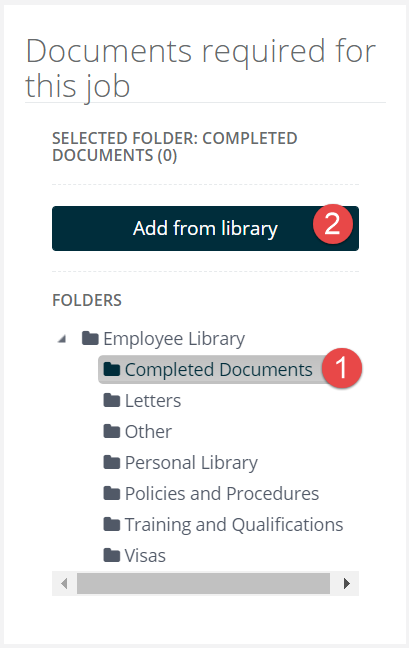 5. Find the respective document in the Organisational Library via the 'Select Documents' popup.
Click [Select] to attach them to the Job Record