The 101.
Flare HR is a large platform with a lot of functionalities. But not everyone should have access to everything, and this is where permission groups come into play. A permission group is a set of security settings, grouped together and then assigned to either a work group or individual employees, giving them access to various parts of Flare.
Note: It is important to take care when working with permission group set up, as this can have a significant impact on the use and access of your system.
Follow Me. 
1. Head over to Settings --> Security --> Permission Groups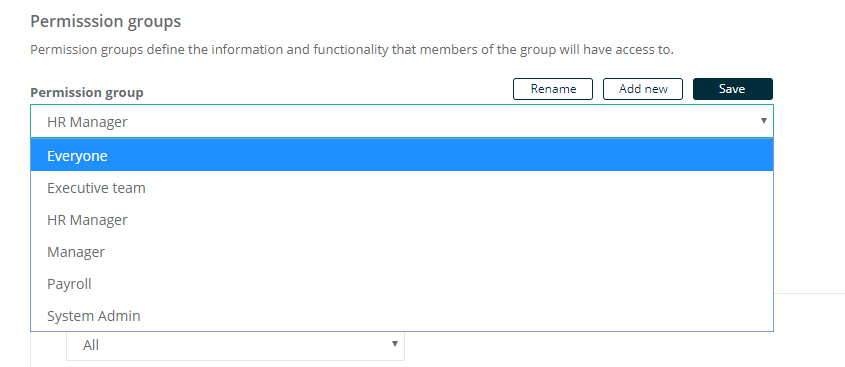 Your Flare account will have five default permission groups already set up to get you started:
Everyone

Every employee is always associated to this group, it includes all basic permissions

Manager

 

This group is designed to include managers – users with additional permission

 

HR Manager

 

This group is designed to give access to see and change all details in Flare to the HR Manager - this is the Super User

 

Payroll

 

This group is designed to only include users who have extended payroll permissions

 

System Administrator

 

This group is designed to include users who can administer the system

 
2. To add certain employees or work groups to permission group, select the Members tab, where you can see who is in this group by clicking

, add or remove employees under People, or Work groups.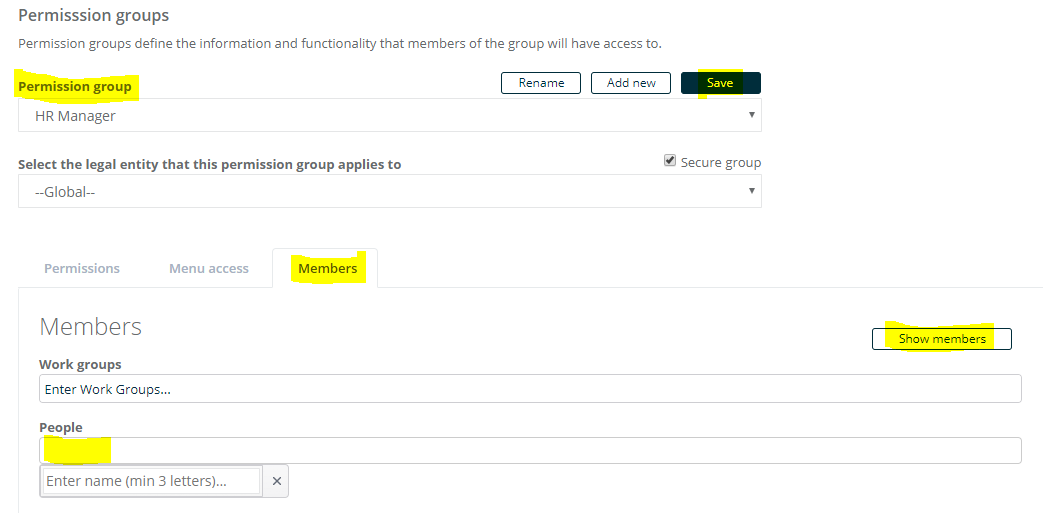 If your Flare account is set up with multiple entities, you may choose specific entities that this permission group applies to.
3. Don't forget to click save!
4. You can give certain permission groups different menu access around Flare by clicking Menu access beside Permissions and Members.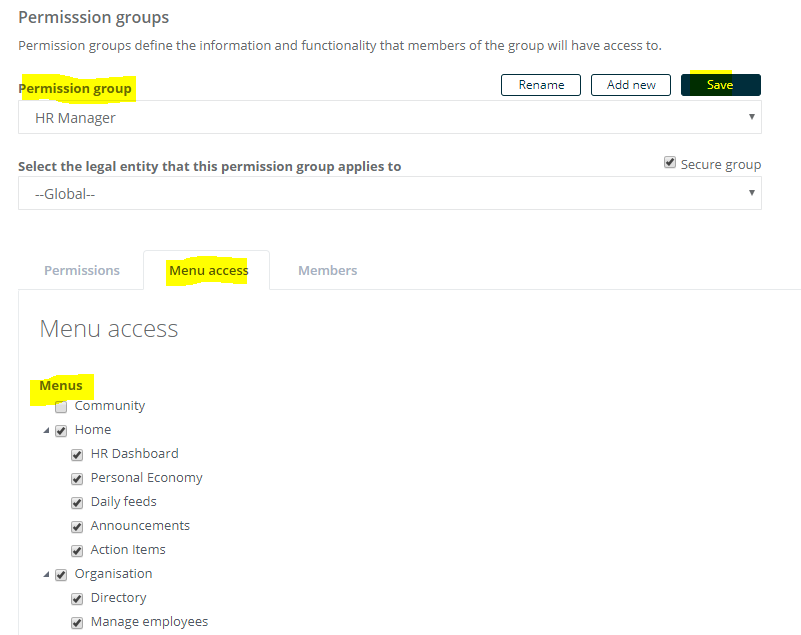 5. You can click on 

 to create a new permission group for your company's requirements, or 

a permission group to suit your needs.
6. Under 

 you can set specific permissions for each permission group.
More detail for each column and row is explained in this article: Security and Permissions Setting 
7. Don't forget to 

any changes you have made.
Note: If an employee is listed in two or more permission groups, whether as an individually added employee or a work group, the employee will always receive the highest amount of access / permissions listed within the permission group. 
Contact Us
If you need any more help feel free to send us a message by clicking on the "Leave a message" icon
Or you can call us on 1300 352 734
You can also email our support team on Support@flarehr.com