When looking to batch upload employees into Flare, you can use Flare's functionality to download an Employee Import Spreadsheet. This Excel file allows you to input employee data at your own pace so that you can upload at a later date. This article will review how to download an employee import spreadsheet.
Follow Me.
1. Navigate to Settings > Batch upload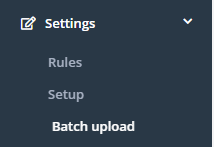 2. Ensure that the Employee load options drop-down displays the Employee Spreadsheet option.
3. Within the next section (STEP 1) you must choose what datasets you want in your employee import. As a shortcut, Flare will automatically default to have a number of datasets ticked. You can select different datasets by opening the Import Template Type drop-down and selecting one of the following:
- Basic - Clears all information group selections, so you can select only the information required.
- Standard - Is what Flare considers the most standard selection of information required for an import/export. It includes most information groups except Basic pay details and Third bank account.
- Full - Includes all information group selections.
Conversely, you can tick or untick each of the datasets manually. You can see which fields are included in each dataset by hovering your mouse over the

icon.The following are the minimum required datasets for creating an employee:
- Full name information
- Full employee details
- Employment details
- Payroll details
- Role details
- Basic pay details
- Pay details

4. Download the spreadsheet by navigating to STEP 2 and selecting Get Employee Import Spreadsheet.
There is an option here to include existing employee info in the spreadsheet. By ticking this option, you will be able to generate the batch import template with all existing employee details. This is ideal for updating employee information in bulk in your Flare account (i.e., for salary rate changes that affect the entire company, job title changes for multiple employees, etc.).