The 101.
You can fully modify your process templates to suit your company and the experiences you want your employees to experience. You can customise this to for different roles and employment types within your organisation to give it your own Flare!
Follow Me. 
For the purposes of this article an example of an on-boarding experience for new managerial staff is being used.
1. Navigate to Settings>Rules>Process Template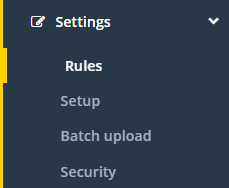 2. Under the title Process Group select Onboarding and Off boarding and choose 'Onboarding' from the Process drop down list.
3. Select Clone and 'Yes' from the confirmation box that appears.
4. Rename the cloned process to 'On-boarding - Management'.
Add new-creates a new process template from scratch.
Clone-copies a template which you can then modify to the needs for the template you have. 
Rename- change the name of a process. This is useful for both renaming a cloned template or ensuring that a template that has previously been created is not used. You cannot delete a process template. 

5. Tick the checkbox next to Active.
If this is not selected this process will not be experienced. You cannot delete a process template so if you make one that you do not wish to use ensure you do not have it as active. 
6. Select the appropriate Process Type template you are creating from the drop-down menu.
This is very important as it is the broad group which the process will be applied. You don't want a new employee experiencing the active employee on-boarding, and vice versa.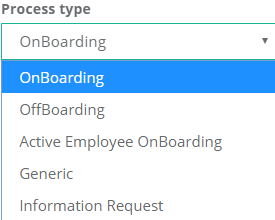 7. Ensure that the Default template checkbox is not selected.
Under each process type there must be one default template chosen. This is to make sure that if an employee does not fall into a filter query they still experience a version of a process template.
By its nature the selected default template should be the most generic of all process types.
There is no validation if no default template has been selected, however you cannot have multiple default templates chosen at one time. 
8. Set up a Filter query. More information on query filters can be found in this article: How to set up separate onboarding/ offboarding process for different employee types? from step 5 onwards. 
9. Select the Security level that is most appropriate for your business. The security level relates to the security permission settings. For more information around security permissions and set up navigate to this article: Permission Groups - Navigating and Set Up.
10. It is recommended that the Process description box is filled out. This does not appear anywhere in the on-boarding experience and will only occur here, however if there's any notes to add this is the place to do so.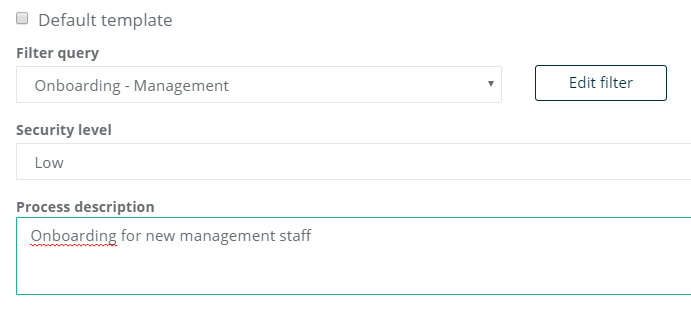 11. Ensure step grouping is enabled. 

The on-boarding experience is split up into various process step groups. These can be modified in Settings > Setup > Lists > Process step groups. 
12. Make sure that you save.
On the whole process template page there are 3 save buttons. For all the steps previously the save button is near the top of the screen next to template setup.
13. Under Process steps setup you can order the steps you would like your new employees to undergo. You can drag and drop the steps to the correct order. 
Moving the steps on the left hand Process steps setup screen will adjust their process however they will adjust this only within their step group. You must ensure you only adjust them within their step group sections.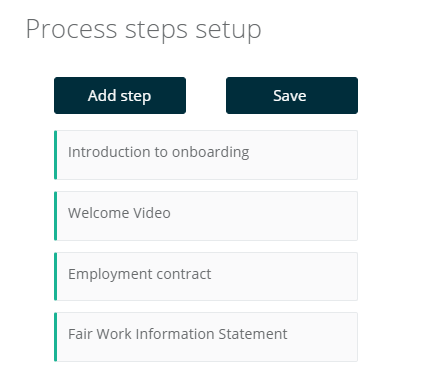 14. Make sure you save this section.
Any changes made to Process steps order or adding any new steps will get saved from the bottom next to 'Process steps setup'.
15. Select a step you wish to modify and fill out the Setup setup section. 
Step title- Will be at the top of that step in the on-boarding process. 
Step group - Will assign which group the step will be assigned to. This takes precedence over the step order from the 'Process sets setup' section. 
Instruction - The text in this box will show up on certain content types. 
16. Select a duration for the Target completion date. You will not want this to be too short as you will constantly be needing to resend the welcome email.
17. Select the Content type, Processing rules, Responsibilities and participants, and Smart alerts. For information on items navigate to this article: Process content types and modifiers.
18. Make any Styling modifications you wish to change. 
19. Ensure you do not select the Delete button as this will delete the entire step. 
20. Select Save from the bottom right-hand corner. 
Can see a demo of what the step content will look like in the bottom left hand corner of the page. This demo is based on the last saved content. If it has not updated then the changes have not been saved. 
Repeat the Step setup section (steps 15-20) to all steps you wish to modify. 
What's next?
Would you like to see what the content types will look like once set up? - Check out The standard Flare Onboarding process
Perhaps you have set up your process, but require to setup a process for different employee types?