To ensure you are compliant, you might need your employees to complete a form during their Onboarding or Info Request processes. These can be Police Checks, Medical Declaration Forms or simply Uniform size forms.
This is in addition to any company policies your employees are required to read and sign off during a process in Flare.
Please first refer to this article to learn how to create fillable forms for use in Flare.
The below will guide you through adding the generated form into Flare.
Follow Me.
Upload the form
1. From the Menu, select Organisation and then Library.
2. From the folders listed in your Flare library, select the one you wish to store the document in. Select Add new document and enter a document title in the pop-up.
3. Click Select and upload and a pop-up showing your document folders on your PC will appear. Select the document you wish to upload and click Open.
The document will upload to your Flare library and will appear as an icon on the Library page under the chosen folder.
4. Ensure you set the correct access for the form - How Do I Update The Security Settings Of A Document?
Add the form to a process
1. Go to Settings > Rules > Process templates
2. Select the process you would like to add the form to (e.g. Onboarding, Active Onboarding, Info Request)
3. Click the Add step button
4. Drag and drop the step to the correct position
5. Fill out the Step setup section.
6. Select 'Complete Form' as the Content type

For more information on items navigate to this article: Process content types and modifiers.
7. Click on 'Select' and add the form from the Organisation Library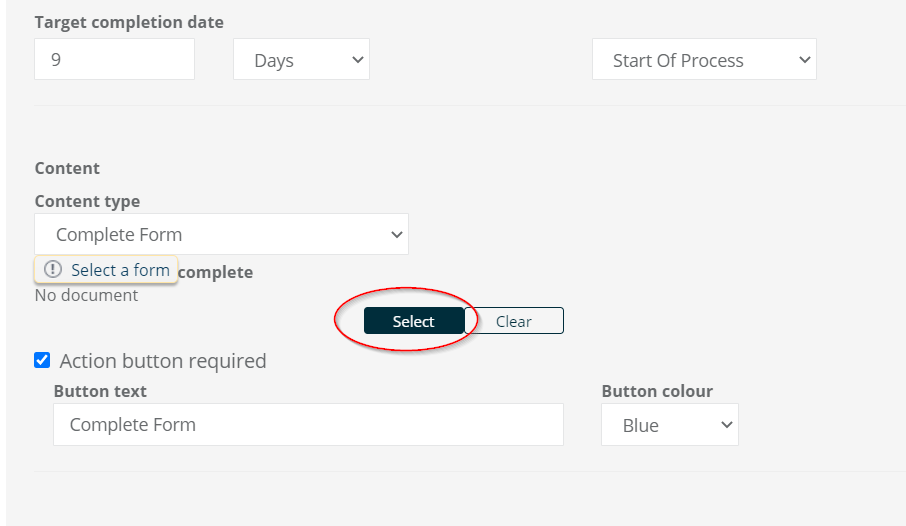 8. Save