The 101.
Getting a candidate set up in the system allows you to complete the hiring process at your own pace, you can input all the information now and then hire later!
Follow Me.
| | |
| --- | --- |
|   | Before you add a new user, first make sure they do not already exist in Flare. |
1. From the Menu, select Organisation, then Manage Employees.
2. Click 
, A large pop-up will appear for you to add the new Employee details. 
3. Select candidate from the drop down menu.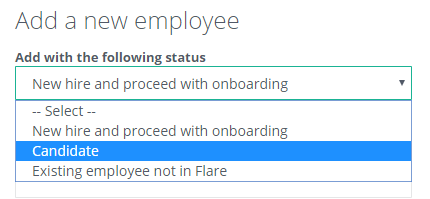 4. Fill out all mandatory fields, for more information on what each field means click here
5. Be sure to correctly select who the employee reports to as this will determine their position in the org structure
6. Once all the information is filled out select 

7. To hire a candidate, from the manage employees screen filter for candidates as shown below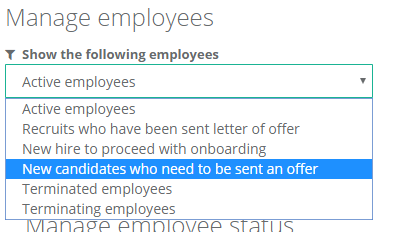 8. This will show you all the candidates you have entered in the system. To send a letter of offer out select 

.
9. Make sure that all the information is correct, if you need to make any changes to their employment information click on the 

 link and make the relevant changes on their role page.
10. Preview the employment contract before you invite them to Onboard by selecting

11. Select 

to send out a welcome email with log in credentials and begin the onboarding process.


Contact Us
If you need any more help feel free to send us a message by clicking on the "Leave a message" icon
Or you can call us on 1300 352 734
You can also email our support team on Support@flarehr.com