If your employer asks you to add your licence or certificate details during onboarding or via an info request, you can do so easily by following the below steps!
Some other articles you may find helpful:
To see how to add Qualifications click here
To see how to complete a form that has mandatory fields click here
Follow Me.
1. Log into your Flare account
a. If you are completing Onboarding navigate to the licence step.
b. If you are completing an info request select "Start" and the Licenses screen will display
2. Click the Add New button to add a licence or certificate.


3. Input the licence or certificate details, including the below:
Title: the name of your licence/certificate
Number: the licence or certificate number
Type: Select the type of licence from the drop-down (e.g. licence, registration, certificate, etc.)
Area: Select the area of the licence from the drop-down (e.g. first aid, white card, motor vehicle, etc.)
Date awarded: When did your licence/certificate become active?
Expiry date: When does your licence/certificate become inactive, invalid or expiry?
Issuing authority: Who is the governing body for this specific type of licence/certificate
Institution: Which institution issued you the licence/certificate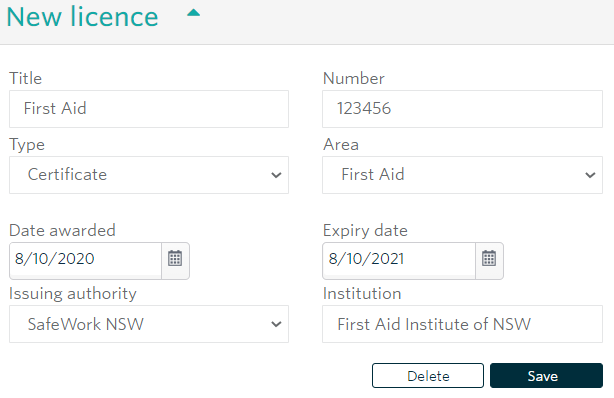 4. Click Save.
5. You can then add a document by clicking the small black Add new button under the Documents heading.



6. A pop up will appear and you will be able to upload an image of your certificate or licence from your phone or computer by clicking the Select and Upload button.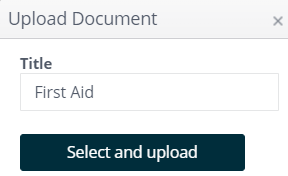 7. Once you are satisfied with your licence or certificate details click the Save button followed by Continue.
8. To add additional licences or certificates please follow step 1 - 7.