At Flare, keeping everyone's data secure is a top priority.
2-step Verification is an authentication method that requires two pieces of evidence. It requires you to enter a code sent to your email address to verify your identity.
You will be required to enter an authentication code to confirm your identity for Flare, if you have access to employees' full details or TFN or if your employer has enabled this setting account wide.
Note: If you are experiencing issues with your username or password, see Troubleshooting Issues Logging In
If you are having difficulty receiving the two-factor verification code, please follow the steps in this article:
Follow Me.
First time logging in
1. When logging into Flare for the very first time, you will be required to to enter 2 separate verification codes.
Note: Both will be sent in separate emails so it's imperative that the most recent code is entered during the second verification step. Don't forget to check your Spam inbox.
Any user with access to another user's full details or TFN, will need to verify their identity by entering both their password and a 6-digit verification code. The verification code will be emailed after successfully entering the password.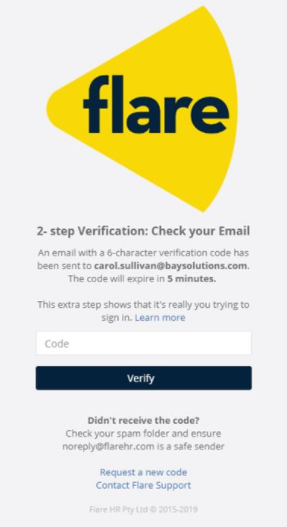 After signing in, the account can be securely accessed as usual. Without both the password and the verification code, access to the account is denied.
Two-factor verification is required every couple of days.
Note: Two-factor verification is required by the ATO and cannot be disabled.
What to do if you haven't received the Verification Code.
Ensure you have spelt your email address correctly and that it matches your employer's records
Check your Spam/Junk inbox
Add noreply@flarehr.com to your Safe Senders List or White List
Disable any running VPN's
If all of these steps have been followed but you still aren't receiving the Verification Code, please contact Flare Support.