Signing off and authorising changes in the business is a transparent, accurate and efficient process in Flare. The Approvals feature allows both single, multi-level and sequenced approvals to be easily reviewed, authorised & tracked by Managers. Say hello to a paperless & efficient office by following these steps to keep your business moving forward.
1. From the Menu, select Organisation, then Approvals.


2. The default setting for the page is to show the Approvals that have a status of Pending.
You have 5 drop-down filters to choose from that allow you to review a range of Approvals.

3. If no filters are used, and there are approvals pending authorisation, you will see them listed in the main panel in rows, with details of the date the request was raised and the deadline required by, at least one name of the possible approvers, the status of the approval and what the approval is for with the details listed.

4. To review OR action an approval request, click on the hand symbol under the Approval column. A pop up will appear


5. The Approval pop up will show the details of the Approval request and the following features:

This will indicate the percentage of progress the approval has achieved based on how many authorisations are required.


List of Authorisers: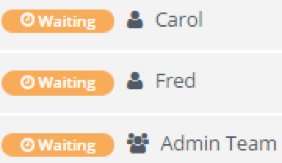 This shows the people and/or teams whose authorisation is required.



| | |
| --- | --- |
| | If a multi-person icon is displayed, anyone listed in that Work Group in Flare can be the authoriser. |
| | If a single icon and name are displayed, only that person can be the authoriser |

The amount of security steps and level of authorisation required is based on how each approval request was set-up in Flare.
A security feature example is: Whether you select Approve OR Decline, a pop up will appear for you to enter your Flare Username and Password and to sign the form using your mouse or a saved signature file.


6. You then must click Confirm to submit your response to the Approval request.


7. The progress bar will update once your response is submitted.



What's next?
Do you need to update your profile picture?
Or, maybe you want to find an employee and contact them?