Employment Contracts need to capture the signature of the Employee and as well as the signature of the authorised signatory of the Company. By using Flare's Template Documents, you are able to identify where the signature of the Employee/Company Signatory will be placed within the document.


Follow Me.
This article will just be discussing how to map a signature line on the Employment Contract Templates. If you need assistance setting-up your Contract Template first, see: How do I add a Contract Template?
1. Go to Settings > Rules > Template Documents
2. Select the Template documents drop-down list, and then from the options, select Employee contract

3. Select the required Contract Template from the list and click 'Edit'

4. Scroll down the page and you will see a text editor view of the Contract Template. Ensure that you are viewing the Content tab (instead of the Email message tab) Scroll through the Contract until you find the position you wish to place the signatures.

5. Make sure your cursor is in the correct position for the signature, select the Fields dropdown from the text editor.

There are two merge fields that can be used to map signatures: Company Signature and Employee Signature.
The Company Signature merge field allows you to insert the saved signature of your Authorised Signatory. The Authorised Signatory is assigned per Contract Template. If you scroll up to the list of your templates, you can check the Authorised Signatory column to see whose signature will be mapped on the Template.





NOTE: An alternative to using the Company Signature merge field is to insert an image of the signature directly to your template. If you prefer to insert a scanned copy of your signatory's signature:



Select the Image button on the text editor



Click on Upload > Send it to the Server, and upload the signature image



Click on the Image button again, and then this time, stay on Image info, and click on Browse Server. You'll be asked to select the signature image that you want to insert in the document. Click the OK button once you're done.




The Employee Signature merge field allows you to locate where the employee's signature will be inserted when they sign the contract. This is the only way to insert an employee's signature.
6. Once you add the merge field or the signature image, it will add to the Contract Template and merge in the appropriate signature once the Contract is issued.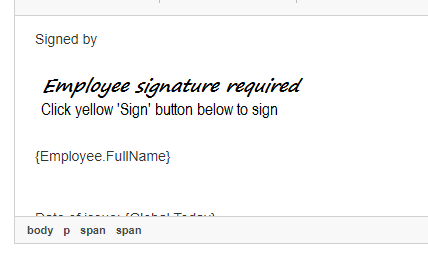 7. Select Update once done