Events seeks to help employers craft and promote an events program with a minimum amount of effort. Growing in popularity are workplace events calendars that allow employers to promote a positive work culture, reinforce values, and provide opportunities for people to come together outside of their work duties.
Click through to find out how to:
With Flare Benefits you can curate wellness content and initiatives, scheduling automated programs according to your own calendar. If you have an upcoming event in your organisation you can easily distribute it to your employees.
Events are available to your employees in:
the Discover screen of the app, under the Events tab; and
the Home screen of the app (featured events only)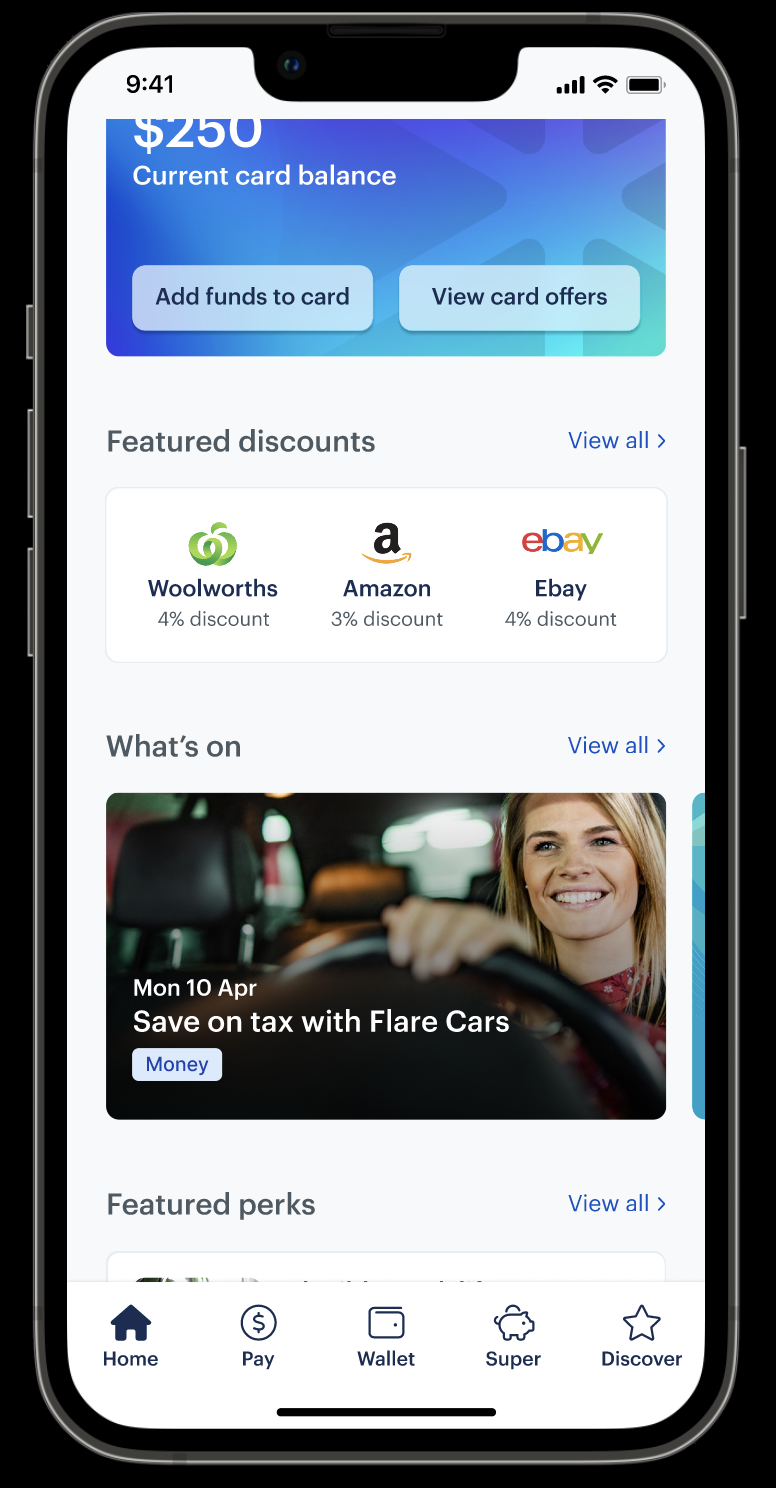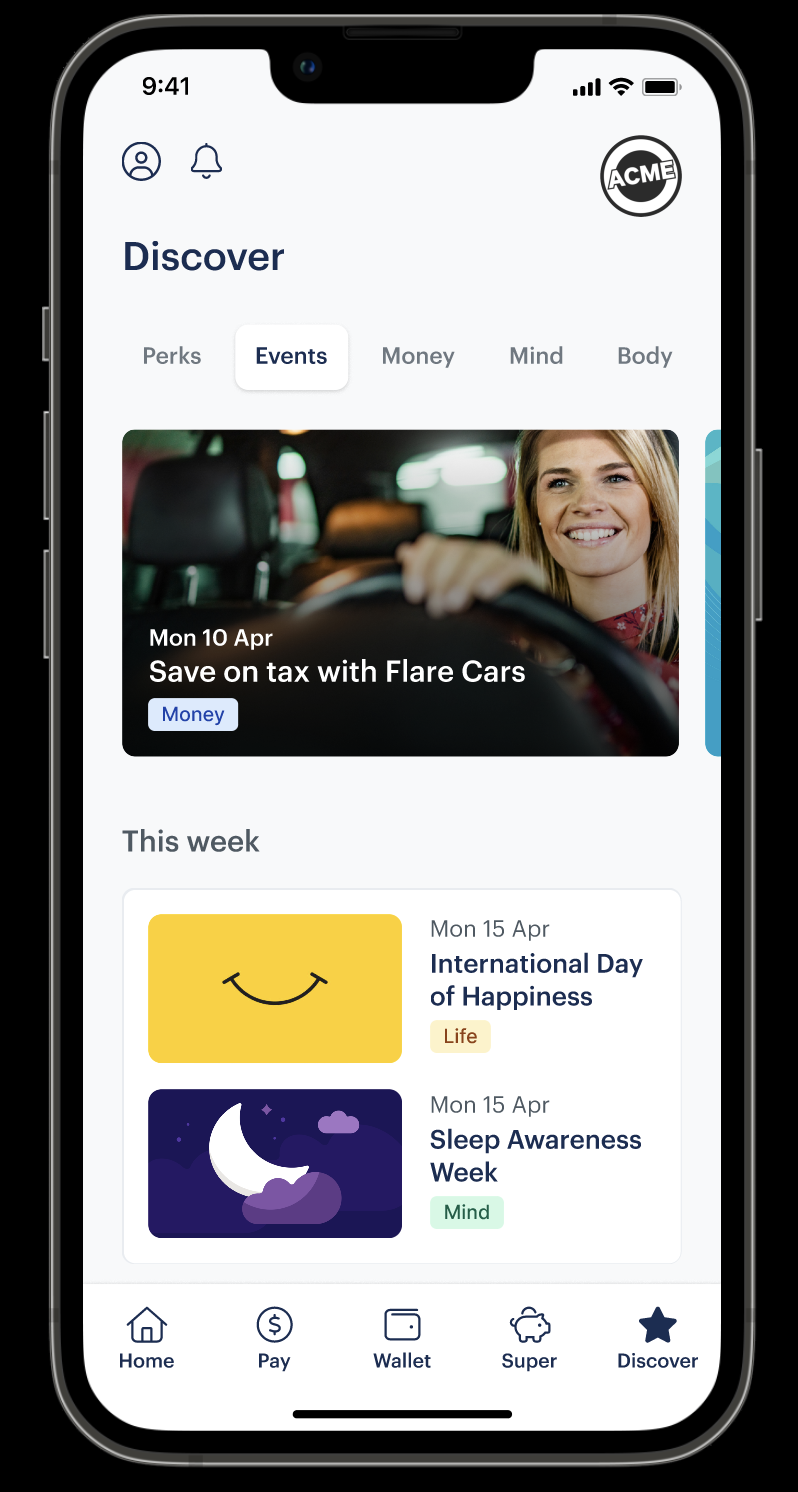 Managing Events
If you're an account Owner or Editor you can manage the events available to employees through Events Manager in the Admin View of the Flare Benefits browser, where you can:
Switch events off and on;
Feature events;
Add new and manage your events;
Create events based off templates; and
View previous events.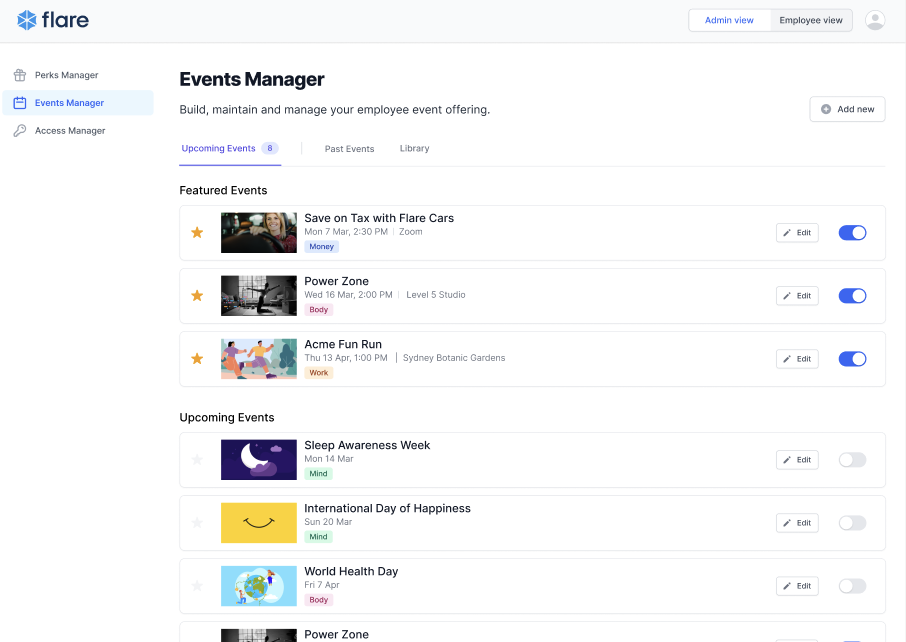 Featuring Events
If you would like to highlight certain events for your employees, up-to three may be featured by clicking the star ⭐ icon.
This will cause the perk to be featured on the;
Home screen of the app; and
at the top Events tab in the Discover screen of the app.
Toggling on/off Events
If you would like to remove the visibility of an event for your employees in app you can do so by using the toggle on the right of each event in the Upcoming Events tab.


Adding, Editing, and Removing Events
To add an Event:
navigate to Events Manager
click 'Add new'
add in the details of the event; and
click 'Add'
By default any new Event is enabled when added, however this may be toggled off at the bottom of the screen. If you don't enable the perk immediately you can do this at any point in the future using Events Manager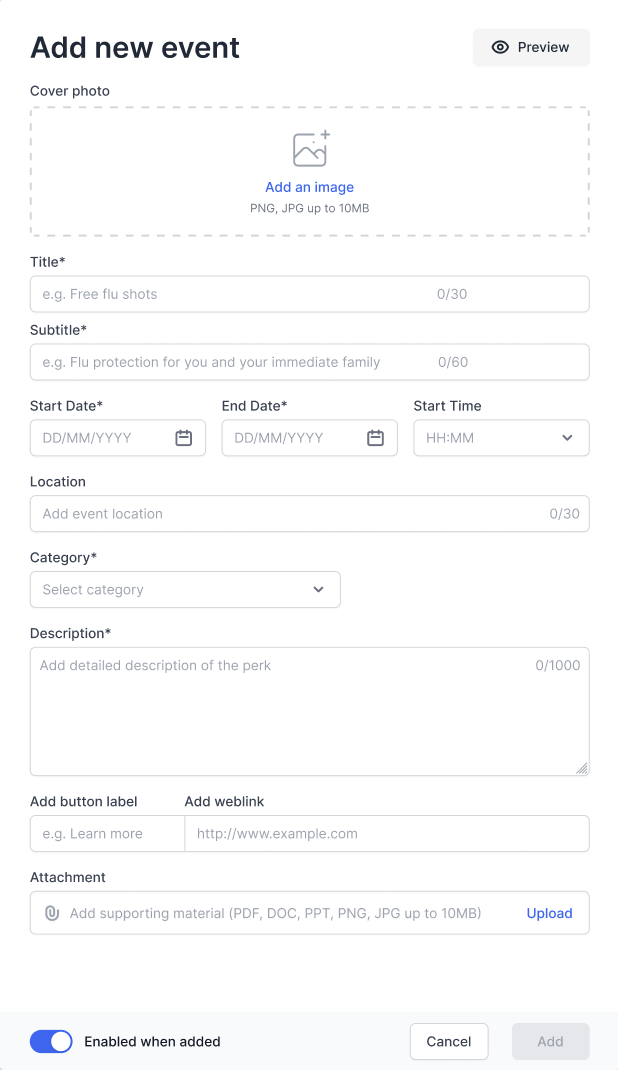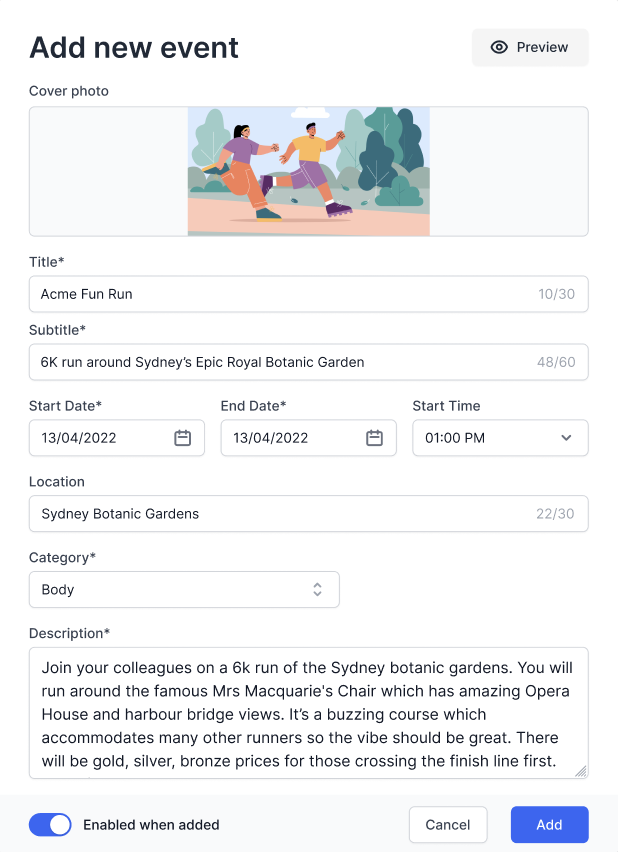 To edit or remove an Event:
navigate to Events Manager;
locate the event you would like to edit or remove;
select 'Edit'; and
edit the details of the edit and click 'Save'; or
click 'Delete' to remove.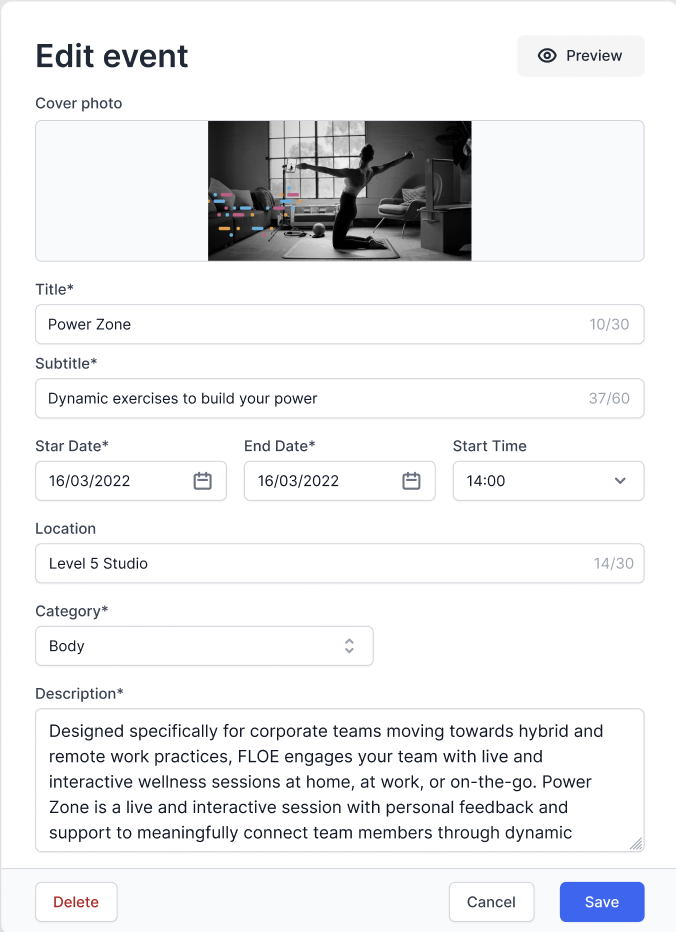 With Events, the following information is mandatory:
Title (30 characters maximum)
Subtitle (60 characters maximum)
Description (1000 characters maximum)
Category (select from Money, Mind, Body, Work, or Life)
While the following information is optional:
Cover photo (PNG, JPG, GIF up to 10MB)
Link details - including both the link and the link label (20 characters maximum)
Attachment (PDF, DOC up to 10MB)
While editing or adding an event you can always preview it by clicking the 'Preview' button and by
Creating Events from Templates.
The Events Library displays events created by Flare for account Admins and Owners to leverage and save time on global events like RUOK Day.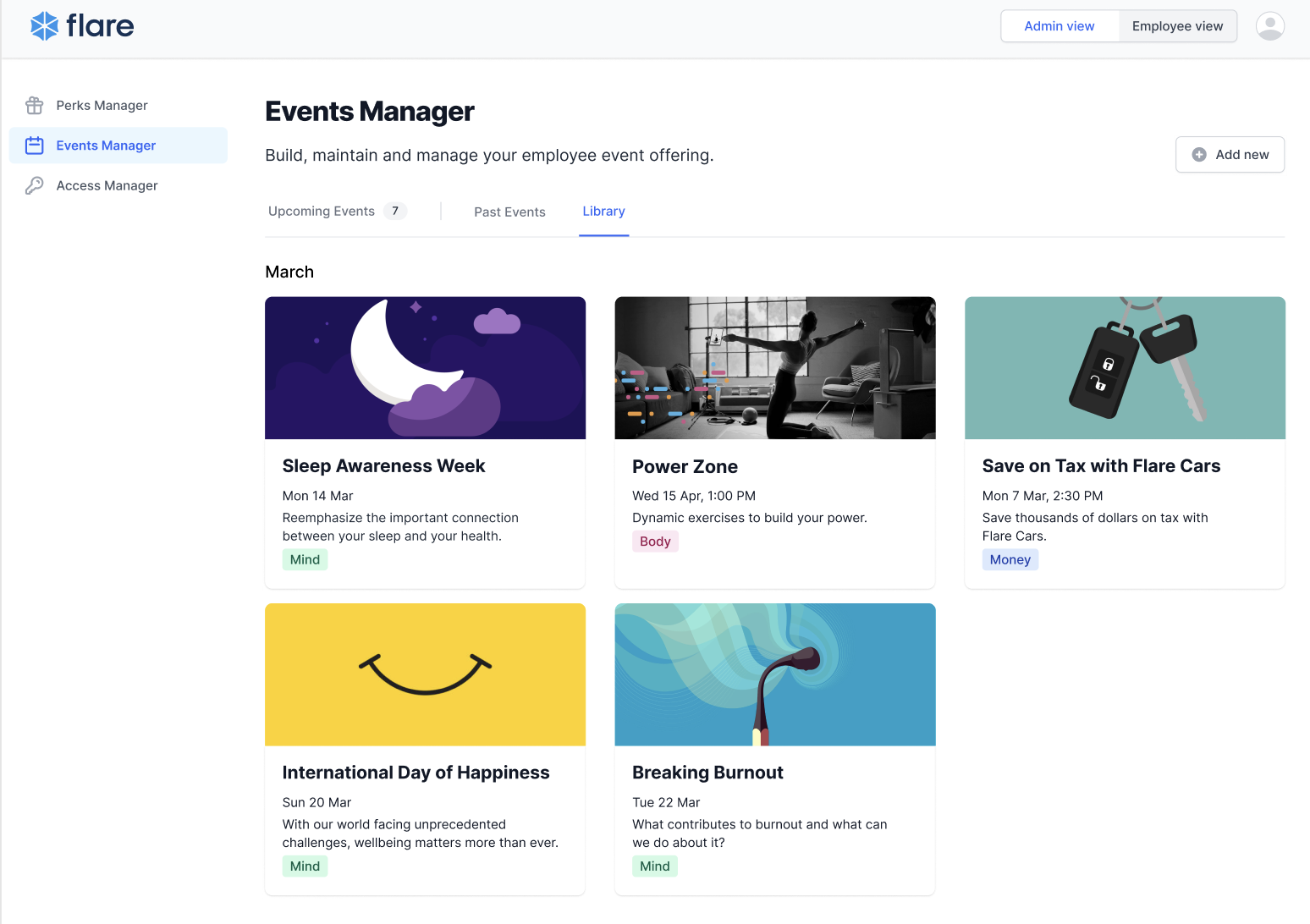 If you would like to add an event from one of the templates Flare has setup:
navigate to Events Manager;
select the Library tab;
find the template you would like to add and select 'Use template'
update the template with details of your event; and
click 'Add'