Check-ins allow employees, peers and managers to complete performance reviews. Check ins within Flare can be customised to suit your various employees. Check-ins are set up in smaller individual parts, which you then assemble at the end. You will need to set up the following parts to create a Check-in:
Area of Interest: This acts like a category.
Topic: This is a subset of the above category to which you can add -

Focus Points: These act like individual questions/statements.

Scale: This allows to set a scale (e.g. 1-10 or Meets expectations - Does not meet expectations)
Free text field: This allows for an employee or manager to enter free text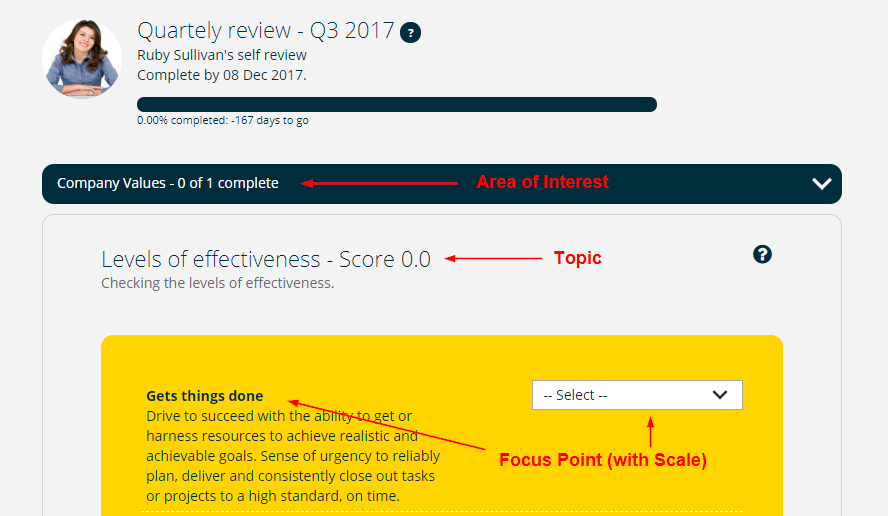 The basic flow of setting up a Check-in is as below:
Set up Area of Interest
This article reviews how to set up an area of interest within a check-in.
Follow me.
Areas of Interest contain Topics (i.e. Company Values, Job Effectiveness). Combine topics to create a review template and name it accordingly.

From the Menu, navigate to Settings > Performance > Area of Interest.

Click the Add new button.
Add a Title for the Area of Interest. Set the relevant Reviewee & Reviewer column options, including:
a) Reason: creates a blank text field to fill in
b) Start/ Stop/ Do more/ Do different: Creates a text field asking for these options
c) Both: Creates both fields.

Click Save to lock in the settings and unlock the Focus Points element
Add Topics to the Area of Interest by navigating to the Topics section and clicking Add new record. Select the Topic.
Select the Employees that this Topic is applicable to (i.e. You can set up different topics by job type) or leave as is to leave it visible to all.

Click Update and Save.

(Repeat until all Topics are selected)