Superannuation to increase to 11% from July 1
How to prepare your Flare account


On 1 July 2023, the super guarantee (SG) rate will increase from 10.5% to 11% in order to improve retirement outcomes for employees across Australia. The super guarantee (SG) is the minimum amount of super you must pay to your employees to avoid the super guarantee charge.


You won't need to update the Super Guarantee rate within Flare, you may want to review and update your contract templates and custom clauses, as well as employee salaries. We've created a simple guide to help you identify what changes you need to make to your Flare account.


Contract Templates
If your contract templates and custom clauses reference the super guarantee rate, you may wish to update this to reflect the updated rate come 1 July.
To review your contract templates please:
Navigate to

Settings

>

Rules > Template documents

Select

Employee Contract

in the

Template documents

dropdown

Select the contract you would like to review

Scroll down and click

Preview

to preview the contract

Assess the preview for any changes required
If an edit is required, you may use the linked support article as a guide to make changes.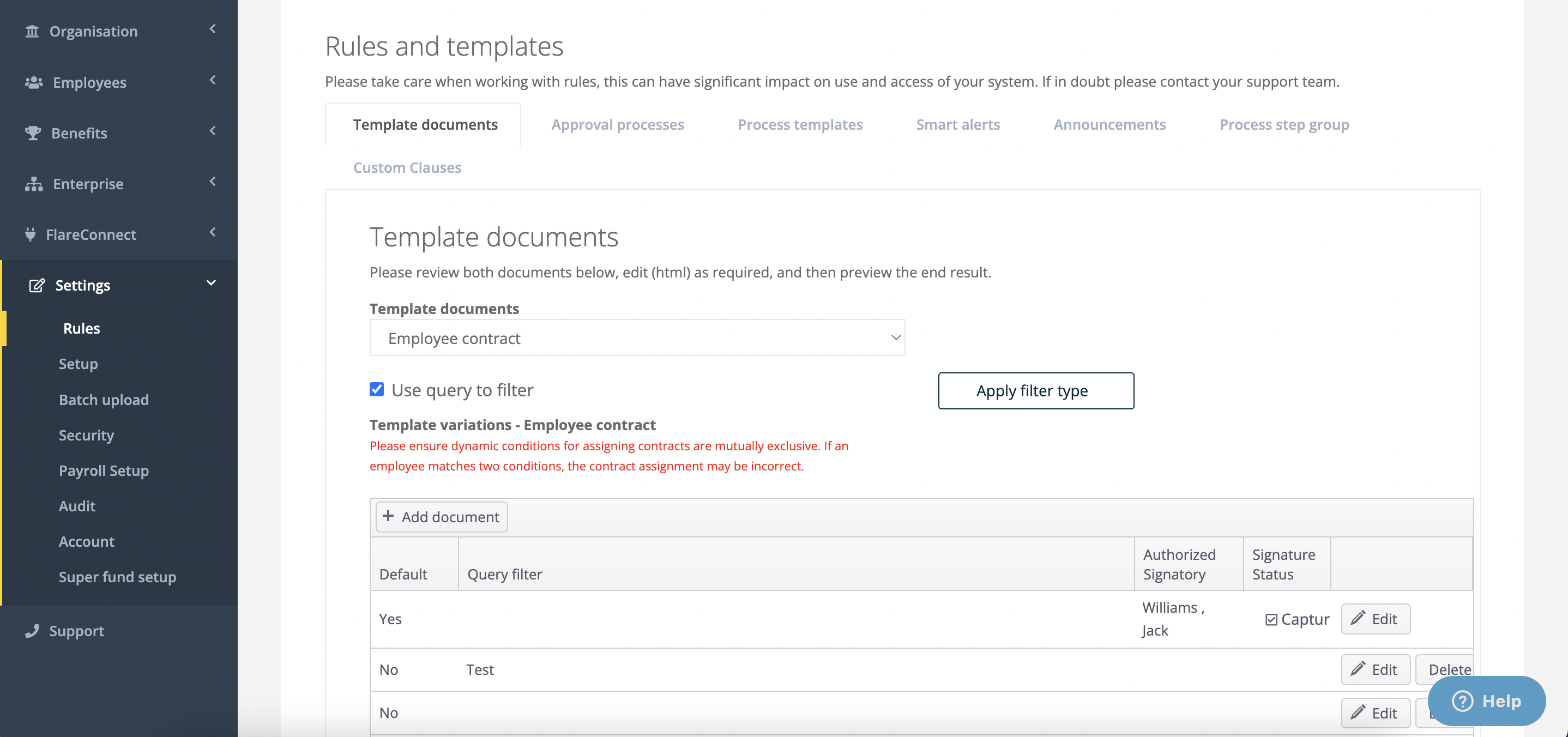 Custom Clauses
To review and update your custom clauses please:
Navigate to

Settings > Rules > Custom Clauses

Click

Edit

on the custom clause you would like to review

Assess the content in

Description

text box and make any changes as required

Click

Save

to save any updates
Please note, if you change the name of any custom clauses you will need to re-add the clause to any applicable contract templates.



Employee Salaries
If you record current salaries for your employees in your Flare account, you may wish to update these to reflect any changes due to the super guarantee rate change.
You can perform this individually on an employee's role page or alternatively in bulk using the Batch Upload feature. Please note, while you can set the effective date for salary changes made individually any changes made in bulk will occur immediately upon successful upload.
Option One - Update individually
Navigate to Organisation > Manage Employees

Locate the employee, using the filters if required

Select the pencil icon to navigate to the employee's role page.

Scroll down to the employee's role page to the Salary section

Click Manage to open the Request salary update pop-up
Edit the employee's salary fields as required and enter the Effective date
Choose the Type of change, Reason for change, and add any comments as required
Click Submit
For more information, please refer to How to change an employee's salary
Option Two - Update via batch upload
Go to Organisation > Manage Employees and select Batch Upload
In the Import Template Type dropdown select Basic
In Step 1 select Pay Details

In Step 2 check Include existing employee info in the spreadsheet before click Get Employee Import Spreadsheet. This will download a spreadsheet containing the pay details of your existing employees.
Make your changes in the spreadsheet and save, before selecting Upload Employee data into Flare and uploading the file, ensuring that you check Existing employee info will be updated (overwritten). This will immediately update your employees with any changes made in the file.


For more information please refer to Batch Upload Breakdown and Batch Upload Tips and Tricks.