The 101.
Flare can display your company's internal support information for employees within the Flare Platform.
Directing employees to our customers relevant internal company support will result in a better employee experience. The Flare Support desk often receive queries from employees regarding their payslips, leave request or access permissions i.e. queries that our Support Team simply cannot answer on behalf of our customer.
Overview
When an employee selects "Support" via the left-hand menu option, they will firstly be encouraged to access the Flare Employee Knowledge Base in the first instance, and then directed to our customers internal company support details.
However, when a Flare Champion (such as HR or Payroll manager) selects "Support" via the left-hand menu option, they will be directed to the current Flare Support desk (no change).
Setup Company Support Information
Navigate to the Account page under the Settings menu option. The section where your company's support information can be captured is on the 'Organisation' tab.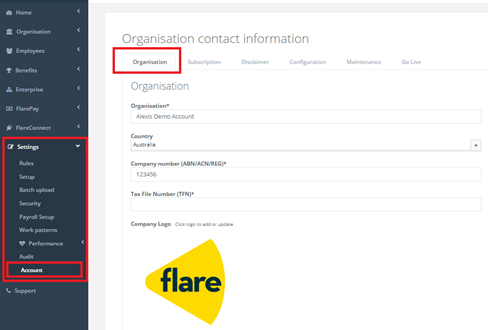 Update the relevant support details including;
Company support site URL (if relevant)
Internal Support Email
Internal Support Phone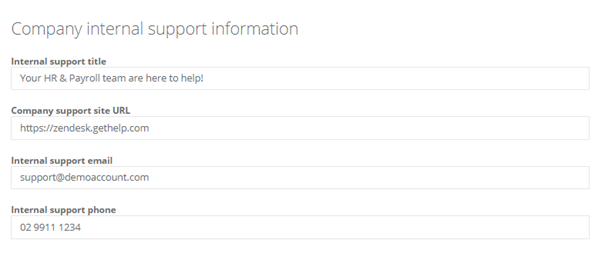 Turn on Permission Group to View External Support
The next step is to turn on the 'permission group' so that employees will see the Organisation support information (rather than the Flare Support Desk information).
To do this, navigate to the Security page under the Settings menu option.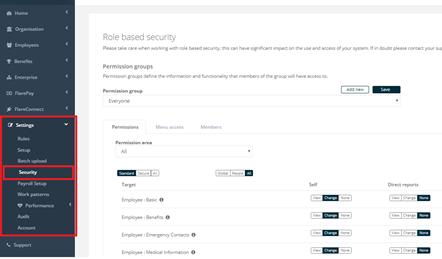 Ensure that the Permission group is set to 'Everyone' in the drop-down menu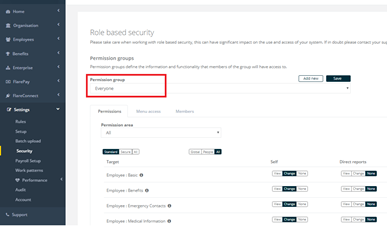 Then scroll down to the permission setting Comms: View External Support and switch this to 'No'. Don't forget to click 'Save'.

Note: You can update the permission settings for other Permission groups if you would like to direct other groups to view your internal support information. Simply select the group from the Permission group drop-down menu and update the Comms: View External Support to 'No' (and click save).
The Outcome
When your employees click the 'Support' menu option from the menu pane, they will now view your Company internal support information.