Our customers hold sensitive and personal data on behalf of their employees and keeping everyone's data secure is a top priority.

Two-Step Verification is an authentication method that requires two pieces of evidence. It requires you to verify your identity using your employee email address before you can log in to your Flare account if you have access to another employee's:
Who is affected?
Employees who have access to another employee's full details or TFN.
How does it work?
If you have access to another employee's full details or TFN, any time you sign in to Flare, you will need to verify your identity by entering both your password and a 6-digit verification code. The verification code will be emailed to you after successfully entering your password.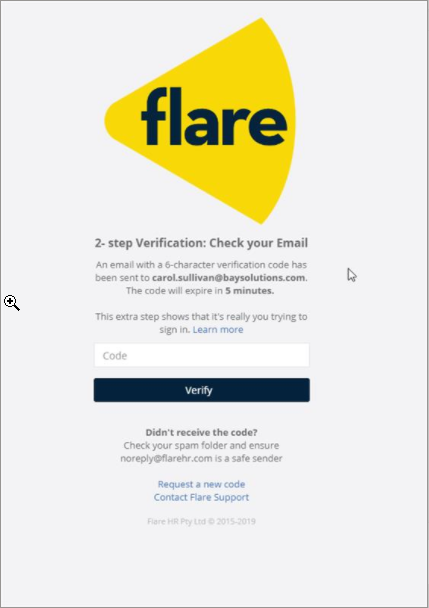 After you sign in, you can securely access your account as usual. Without both your password and the verification code, access to your account is denied.
We will require you to re-verify your identity every 7 days. After 7 days, the next time you login a new verification code will be sent to your email address to complete login.
How do I turn off two-step verification?
Two-step verification is required by the ATO and unable to be disabled.
Want to discuss this further?
If you have any questions please reach out to your CSM or contact our support team