The role page is useful part for an organisation's employee management. Use the guide below to ensure you know how to make important changes to your people's employment details.
In this article:
Division, Department and Job Changes:
Each employee in Flare is associated with a divisional structure, divided into divisions, departments and jobs. Your organisation's divisional structure can be pre-defined in Flare (for more information, please navigate to the 'How to add a job to the divisional structure' article). An employee's job within Flare can also be associated with a specific job description (to set up job descriptions, please navigate to the 'How to add a job description as a document to onboarding').
In order to change an employee's division, department or job in Flare:
1. Navigate to Employees > Employee Details > Role.
2. Find the relevant employee and under Job details select the Edit button to display the division, department and job structure.
3. Select your employee's new Division, Department and Job.


4. Once the new job has been allocated, a 'Change management' screen will pop-up to confirm the changes.
5. Fill in the start date to indicate when this change comes into effect as well as any additional comments.
6. Select Submit to confirm the change.

Note: No changes to 'Job Description' or 'Formal job descriptions' need to be made as these will be auto-populated by Flare with the appropriate documents and descriptions.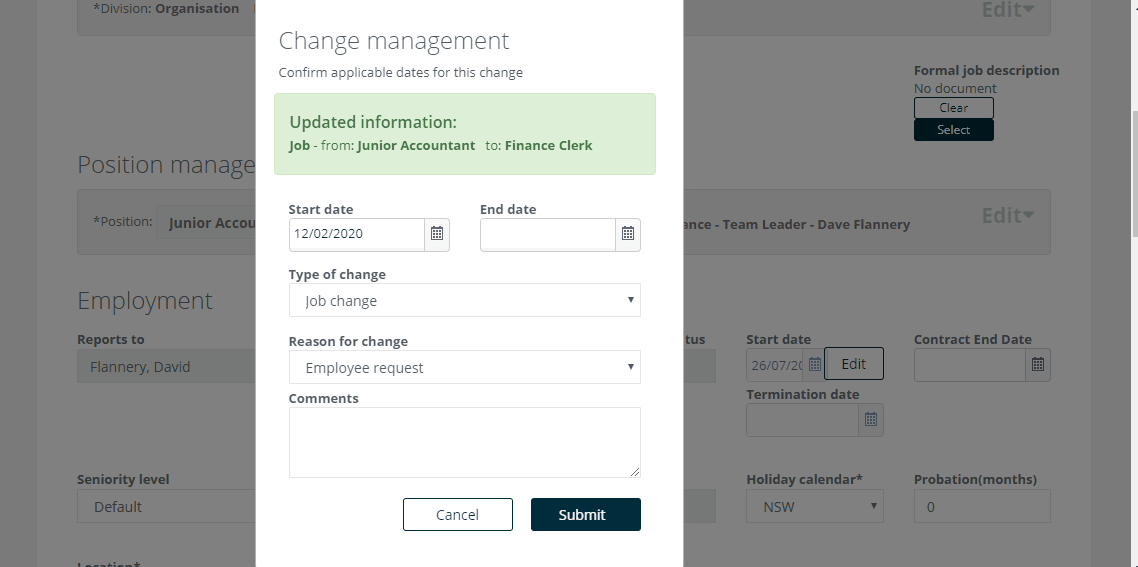 Position Title and Reporting Line Changes:
While Job Details in Flare set an employee's division, department and job, the Position Management section in Flare sets an employee's position title and their direct manager. Your business's organisational hierarchy can be set through Position Management. To adjust an employee's position title and reporting line:
1. On the role page, navigating to the Position management heading and selecting Edit
2. Update the position title by selecting the Rename button and select who the employee is reporting to. If the employee is being added to a new position (one that is not currently vacant within the organisational chart) then tick the New position box.
3. Click Set position to confirm your changes.
4. Complete the change management pop-up as with job changes.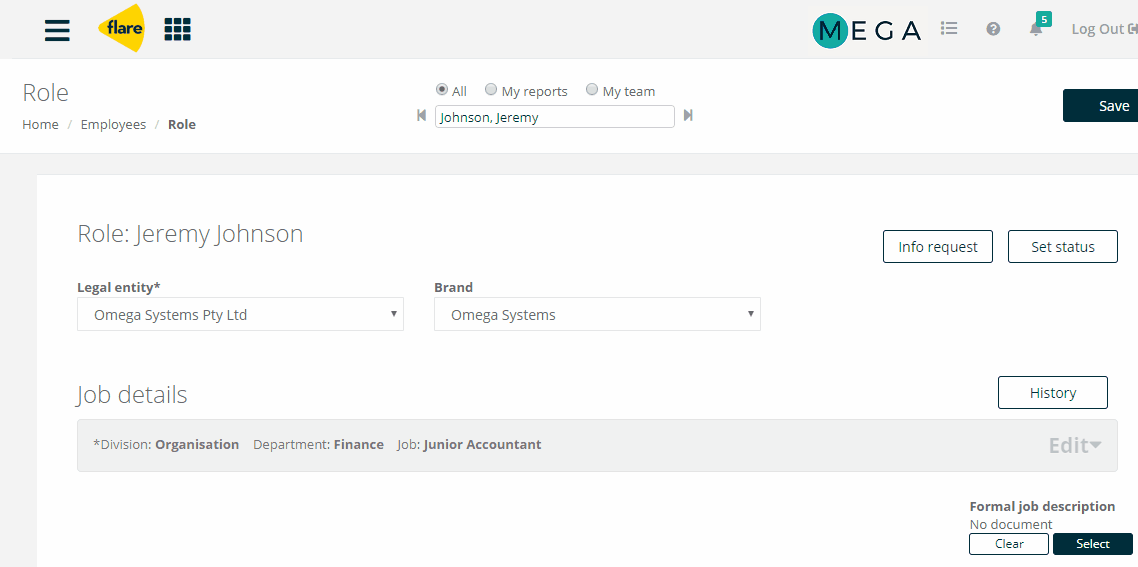 Legal Entity or Brand Changes:
Each employee must be designated to a Legal Entity and a Location. To select which Legal Entity the employee is designated to:
1. Scroll the top of the Role page.
2. Select the Legal entity drop-down box and choose the appropriate legal entity.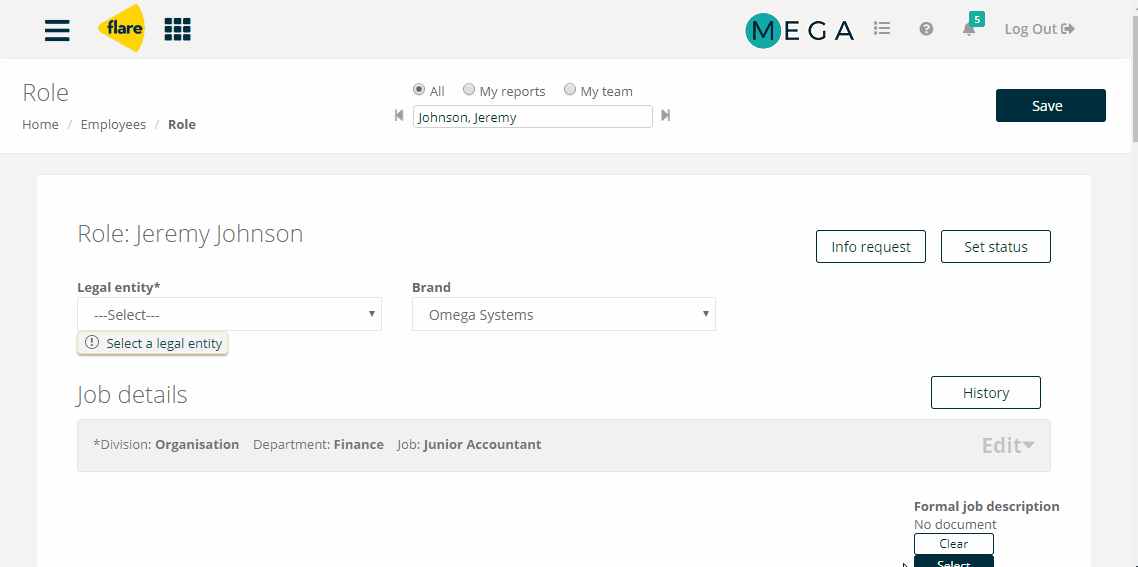 Next ensure that the employee is associated with the appropriate location for that legal entity by:
1. On the role page scroll to Location under the Employment heading.
2. Locations are assigned to legal entities and so only certain locations will appear.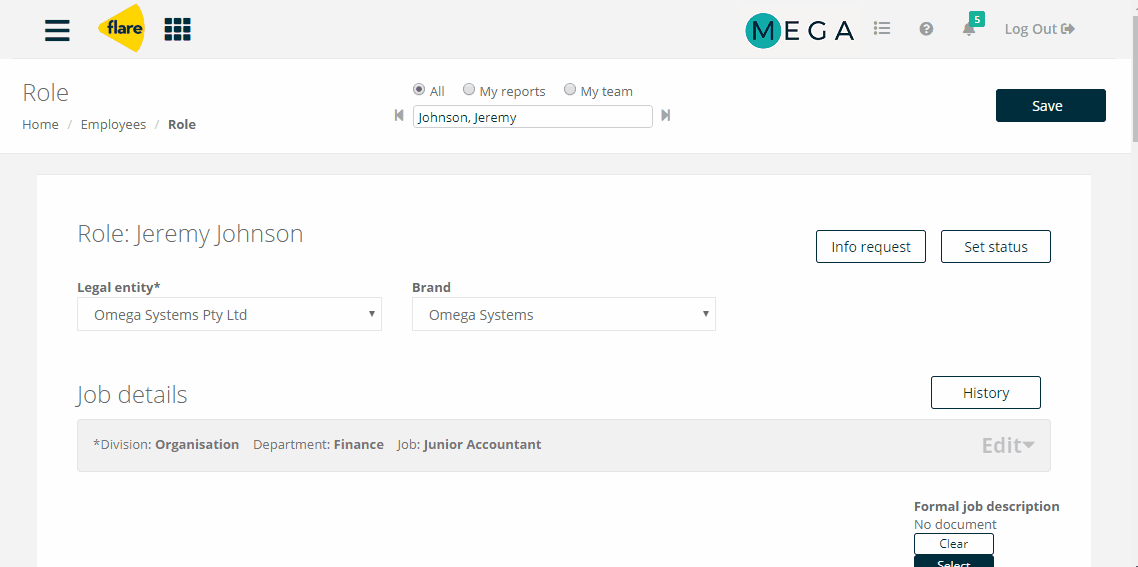 Employment Type Changes:
Ensure that the correct Employment type is set for employees. This is not auto-populated, so it must be manually edited.
1. On the role page scroll to Employment Type under the Employment heading and select the relevant type.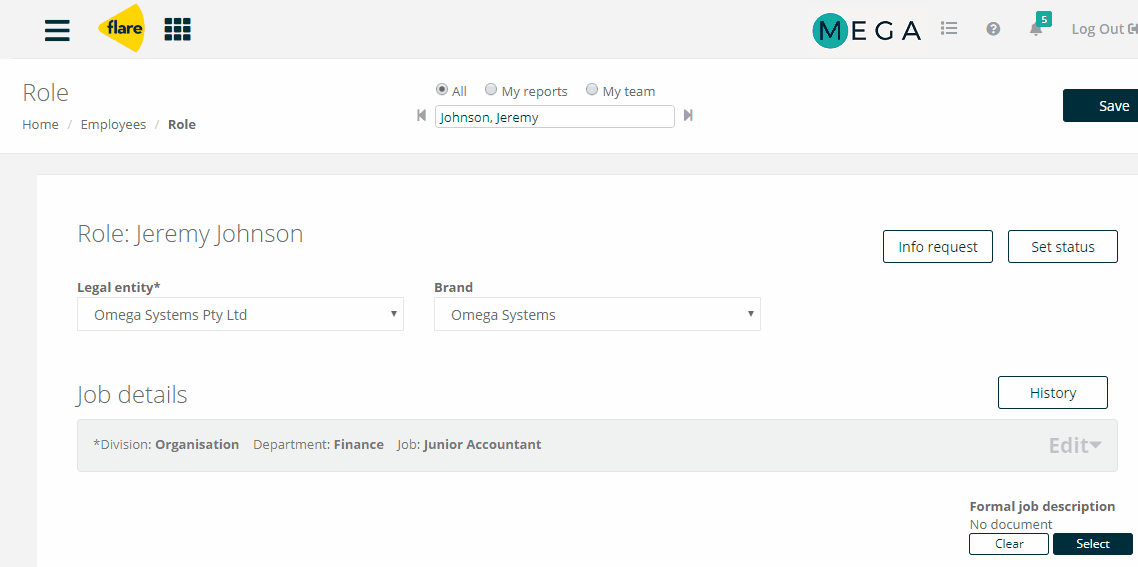 Pay Group and Award Changes:
Update the Pay group so it coincides with your employee's new position by:
1. On the role page scroll to the Payroll (base settings) heading.
2. Select the appropriate Pay Group and Award for the employee.