The 101:
In Flare, any employee can be assigned to multiple Cost-Centres. This allows you to split the costs generated by this employee in different categories in your reports.
Follow-me: 
First, let's head to Employees > Employee Details > Role to find the Cost Centre allocation section. 
Or if you are creating a new employee, you will find the same thing under the employee creation screen. 
The cost centre section can be found in the middle of the page: 


After clicking on the 'Edit' button a new pop-up will come on your screen.
It will contain the list of all your cost-centres present in the organisation.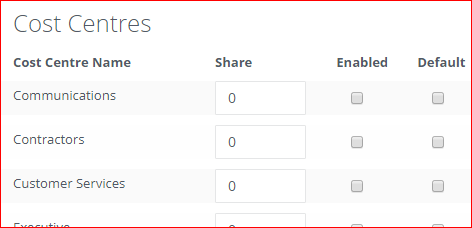 And will end with a small 'Close' button.
Here you can add the 'share' for each cost centre. The total 'share' must reach 100.
Ensure that all selected Cost Centres have a 'Enabled' status. 
The 'Default' Cost Centre if selected will affect Time-Sheet based employees. If no Cost-Centre is selected for Time-Sheets, the default Cost-Centre will take over.