The 101.
Once you've setup your job records (templates), you might like to attach documents to the record. The employee and other users with the applicable access will be able to review the document on the Role page or in the Employee library. 
Please follow this process, if you would like to get the employee to review and sign the job document during onboarding. 
Follow Me.
1. Go to Settings > Setup > Jobs
2. Select the Job you would like to add a document to.
3. In the 'Documents required for this job' section, select which folder you would like the Job Description to appear, once the employee has signed it (e.g. 'Completed Documents') (1)
Note: What you're doing here is saying 'When the employee has completed the Sign Job Documents step in onboarding, put a copy of any documents they've reviewed in this folder'.
4. Click 'Add from Library' (2)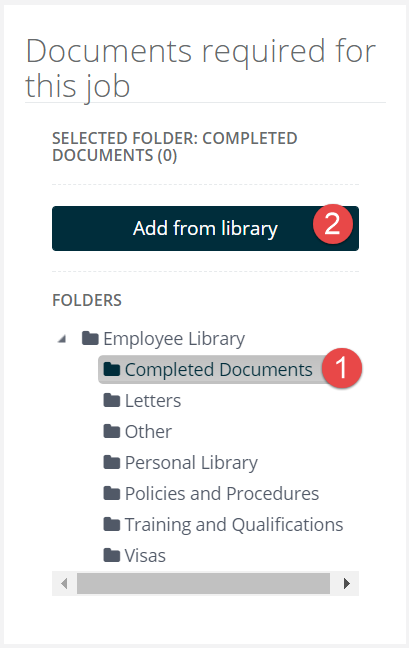 5. Find the respective document in the Organisational Library via the 'Select Documents' popup. 
Click [Select] to attach them to the Job Record